elic·it
verb \i-ˈli-sət\ to draw forth or bring out (something latent or potential)
I like language. Both the spoken variety and the coding kind. I develop user-friendly, client-updateable websites that rock.
I started my career programming custom content management systems in PHP for Flash-driven websites, which has translated over time to developing awesome, secure, and easy-to-maintain WordPress themes with fun and dynamic Javascript enhancements and animations for front-end users. Cross-browser compatible? Check! Friendly on standard screens and mobile touch interfaces? Of course! Ready for search engines and social sharing? Every time.
If you're an agency looking for a WordPress developer, a designer who wants a detail-oriented programmer to make your vision shine, or a project manager who needs help customizing a purchased template for a small business client, let's chat.
Modern Templates
[coming soon]
Legacy Projects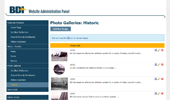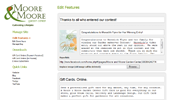 Custom web admin areas for full- and partial-Flash websites designed and maintained by CLM Design.